Creations With Hart
You're choosing more than just a gift; you're choosing a
meaningful connection.
Explore our collection and discover the perfect keepsake
that will touch the hearts of those you care about.
Personalize a one-of-a-kind gift that speaks volumes today.
Real Reviews from Real Customers
Beautiful product which I purchased to honor a female military veteran. I know she will love this beautiful expression of what military women embody. I liked it so much, that I bought one for myself! The products arrived quickly and were well packaged.

Karon
I got a custom piece and the seller not only responded to my request quickly but we spoke throughout the whole process.

Alanna
Marilyn was AMAZING! She replied to my customizations promptly! The shipping was lightning fast and the finished product was BEAUTIFUL! I love it and I know my graduate will too! Highly recommend.

Thanks again.

Tay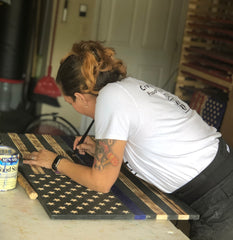 WHY CHOOSE CREATIONS WITH HART?
Exquisite Quality, Built to Last: Each piece is meticulously constructed with premium materials, ensuring it stands the test of time as a cherished keepsake.
Swift Delivery, Every Time: Need a gift in a hurry? Your special present will be on its way to you in under 5 business days, so you can celebrate your loved one's moment sooner.
Unparalleled Artistry: Our designs are one-of-a-kind, created with a level of artistry and attention to detail that sets them apart from anything else on the market.
Hand-Painted Elegance: Every stroke of paint is applied by skilled hands, infusing each gift with a level of care and artistry that machine-made products simply can't match. This personal touch ensures that your gift is a true work of art.
A Promise of Durability: We understand that a gift should endure through the years, just like the sentiments it represents. That's why we take pride in offering products that are built to withstand the test of time, providing a lasting tribute to your loved one's journey and faith.
Find the Perfect Gift